Home
I'm Susie Krichbaum, the mixed media artist behind "Art by SusieK".
In this space I share an eclectic grouping of my "Peculiar characters" and the mystical wanderings of "Willow Hollow Woods". You can find other news on social medial @artbysusiek and @willowhollowwoods
I find inspiration for my dolls from Fairy Tales and Nursery Rhymes and have a soft spot for nature and Irish Folklore. Of course you will find the magic of Halloween generously sprinkled throughout my work. When I start with a basic idea I just let the character develop; I am passionate about creating a story to surround my dolls and often find the story writes itself as part of the creative process.
ACCOLADES:
I am proud to share some personal accolades below and look forward to continuing to share the creative process with collectors and fellow artists.
Published art in Art Doll Quarterly Magazine of Stampington Press:
Spring 2016/ The Dr. Seuss Doll Challenge where my doll also appeared on the Stampington Website

Fall 2016

Fall 2017

Winter 2018

Fall 2018 /The Haunted Fairy-tales Challenge (2 dolls) and Show & Tell (2 Halloween Dolls)

Fall 2021 / The Return of the Magazine - I recieved 2 Featured articles for my dolls.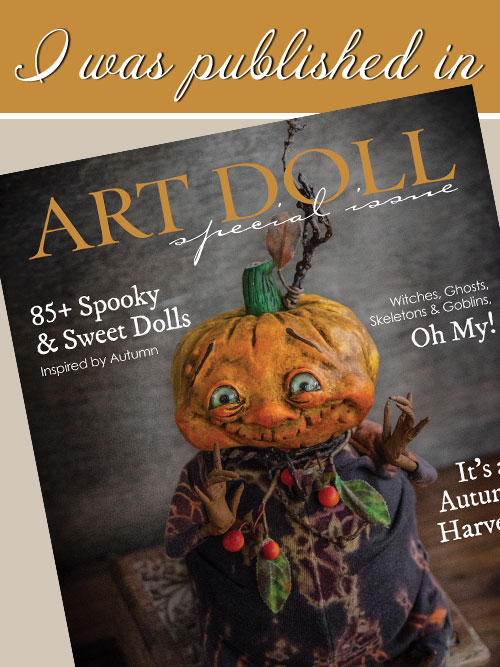 Published art in Prims Magazine by Stampington Press:
Design Team Member for Creative Paper Clay® since 2019 Responsible for producing a monthly tutorial projects, tips and tricks for Creative Paper Clay® users and trying out new products before made available to the public.
Featured artist on "Halloween Art and Travel Podcast" produced by Kristen Stafford in October of 2020
Contributing artist for "Autumn Brilliance Magazine" A Scary Christmas Edition, 2020, Fall Edition 2021, Digital magazine created by Ellen Gee.
Contributing artist for "Turnover" movie in 2019, written/directed by Laura Palmer and winner of several film festival awards.
I was commissioned by a director of indieflims in California to created a doll as a prob for her movie. The movie just won two awards at Idyllwild International Festival of Cinema. This was such an amazing opportunity. The movie is called "Turnover", and is a family movie with a lot of meaning. Take a look at their Facebook for more information Turnover Movie Below is a picture of Julia Silverman, the actress who plays the spunky waitress named Gladys which was the character I was asked to create.

Participating artist at:
"Spirits in Sanford Halloween Art Show", in Sanford, Florida 2016, 2017, 2018, 2019
Produced by Artists, Jorge de Rojas and Iva Wilcox
"Hauntizaar", in Saint Petersburg, FL 2017, 2017, 2018, 2019
Produced by Artist, Coralette Damme
"Heart of Halloween", in Cumming, Georgia 2019
Produced by textile artist, Wendy Altman
"Nevermore Market Online Shop", online Facebook Group by All Hallow's Eve producer, 2021
Produced by All Hallow's Eve art show producer, Stephanie Sherratt
As I continue along my journey I hope that you will follow me down the path as I find balance between the "Peculiar Characters" and my mystical "Willow Hollow Woods". By joining my Creative Breakfast Club you will receive information once a month giving you sneak peeks to what's on the work table and tips and tricks on the creation process. Members will be the first to have access to the newest pieces with exclusive pricing. Use the form below to join or by clicking on the Breakfast Club link.
Couldn't do it without the support of my crew.